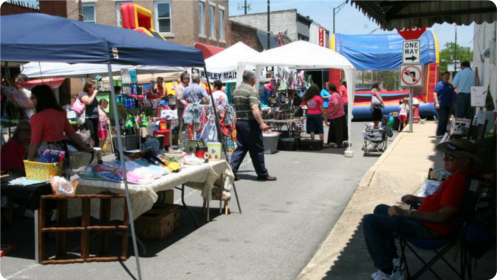 Annual Events
Girls Night Out - Quarterly
Ripley Main Street encourages the community to shop locally by promoting local retailers through media coverage
Easter Egg Hunt - April
Held at Kid's World. Over 5000 eggs hidden for ages 0-10 years. Prizes are awarded in 5 different age groups. Event expected to draw 300-400 people.
Spring Fling - April
Held on the Square. Mid-South Fair Sanctioned Talent Contest andan Art Contest and Exhibition. Live music and good food. Event expected to draw 300 people.
Star Spangled Celebration - July
State of the Art Firework show, Jack and Jill Ole Miss vs. Mississippi State Alumni Softball game, Home Run Derby, Kidz Corner, 5-k Run/Walk, Live Music, Food Vendors, and Community Service Booths. Little Miss Sparkle Pagent is held prior to and in conjunction with the Star Spangled Celebration. Event expected to draw 3,000 people.
Ripley Main Street 4 Person Scramble
Held at Kirkwood National Golf Club. Provides networking opportunity for local golfers and businesses.
Annual Dinner - August
Prestigious Main Street awards presented to local businesses and individuals. Recap of the past year's accomplishments.
Held on the Square. Consists of business sponsored Trick or Treat Tents, Chili Cook-Off Taste Testing Tents, Costume Contest, Pumpkin Painting Station, Live Music. Event expected to draw 500-750 people.
Holiday Open House - November
Ripley Main Street promotes the Holiday Open Houses through local media coverage.
Christmas Parade - December
Held on the Square. Sponsoring businesses will have company's logo prominently displayed on a walking banner